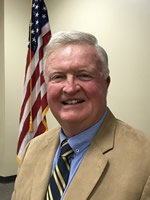 The Shelby County Law Enforcement Personnel Board is sad to announce that another of its longtime members, Mr. William "Bill" Mack Martin, passed away on October 15, 2021. Bill had served on the Shelby County LEPB for 33 years.
Bill grew up in Louisville, Mississippi and later moved to Alabama. He graduated from Auburn University in 1969.
Bill married Alice Bube in 1971 and taught high school for two years in south Alabama. They started the Oak Mountain State Park Demonstration Farm in Pelham, AL where they lived for over twenty years.
Affectionately known as "Farmer Martin" he educated thousands of school groups by shearing sheep, milking cows and goats, and giving hay rides while connecting kids with Alabama's agrarian past. A perennial hard worker, Bill founded Olympic Fence and erected fencing for backyards and businesses throughout the greater Birmingham area with the help of his beloved border collie, Dew.
When not working, Bill spent time hunting, fishing, gardening, landscaping, and pulling for Auburn. Known for his hearty friendliness, joyful laughter, and servant's heart, Bill served his community as a long-time deacon of Lakeside Baptist Church and the Shelby County Law Enforcement Personnel Board.
Bill was a devoted husband and father. He is preceded in death by his mother Verdell Chapman Martin and father William Brooks Martin. He is survived by his wife, Alice, his daughters Tamara Martin and Cathlena Martin (Stephen Bennett), his sister Sandra Dunbar (Cuyler): Kyle Dunbar, Kelly Smith, and his in-laws Harold Bube (Rita): Kimberly Pretner, Chad Bube, and Kevin Bube.
A celebration of life service will be held at Lakeside Baptist Church on Friday, Oct. 22 at 10am with a visitation at 9am.